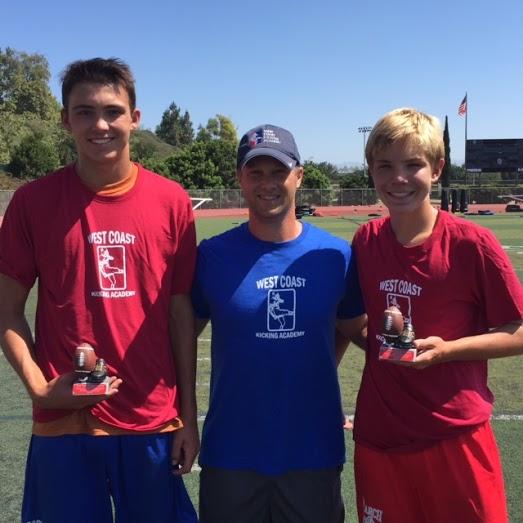 Rising Stars Division
The Rising Stars Division, featured a solid group of up and coming kickers from all over Orange County. The competition was won by soon to be 9th grader RJ Lopez of Mater Dei. RJ showed great consistency, connecting on 32-36 FG's throughout the competition and was hot at the right time heading into the elimination round as the #2 seed after the group stage.
RJ had to overcome some major hurdles on his way to the title. In the Semi Final, he was matched up with his older, more seasoned brother Nick, who will be a Sophomore at Mater Dei this Fall after completing a successful Freshman year. It was a fierce battle, as neither brother wanted to lose. RJ didn't miss….. Winning 6-5. Expect big things from Nick Lopez in the future. In the final, RJ took on fellow Trinity rival and incoming 9th grader from Santa Margarita, Connor Bane. Bane, who has one of the biggest legs in his age group, hit some of the best balls of the competition. In the end, RJ's consistency was too much, as he did not miss on his way to the title.
The only kicker to beat RJ in the competition was fellow incoming 9th grader at Mater Dei, Jake Moos. Jake won in sudden death during the group stage and faced off with Nick Lopez in the Qtrs, coming out of with Nick winning on the last kick.…… The future is bright at Mater Dei in the kicking department.
The top seed coming out of the group stage was Jake Woolgar (Laguna Hills) who won all 3 of his matches before losing to Porter Watson in the Qtrs. Other outstanding performances throughout the competition from a group of talented young kickers who will play Varsity this Fall were Joey Rizkallah (Tesoro), Brendan Marmion (Aliso Niguel) and Mason Holmes (Mission Viejo).
This was a great group of solid young kickers who will definitely be ready in the Fall to compete for starting positions and will make a name for themselves in the future.